The Plowright lab meets weekly with the Cross lab (USGS), the Olsen lab (WCS), and a number of Bozeman-based collaborators and friends (MTFWP, Penn State, and Washington State).
PhD, Principal Investigator
Raina is an infectious disease ecologist, epidemiologist, and wildlife veterinarian. After training as a veterinarian in Australia, she worked as a domestic animal and wildlife veterinarian in Europe, Asia, Australia, Africa, and Antarctica. Raina did a PhD in Ecology and MS in Epidemiology at the University of California, Davis and a postdoc at the Center for Infectious Disease Dyanmics at Pennsylvania State University.
Email: rplowright@gmail.com
MS, PhD Student
German is on a Latin American Fulbright Fellowship. German specializes in bat ecology, disease dynamics and epidemiology. He is a member of the IUCN Bat Specialist Group and has extensive field, bat detection, disease modeling, and GIS experience. See more about German here.
Email: germanbotto@gmail.com
MS, PhD Student
While at Columbia University, Dan worked on his thesis with EcoHealth Alliance, focusing on bat surveillance data from their Nipah Virus project. He is interested in the intersection of disease ecology, immunology, pathogen diagnostics, and public health surveillance systems and has had the opportunity to work on disease surveillance systems in South Africa and Tanzania. Dan is originally from California, growing up in Sonoma County and then living in North East Los Angeles for 6 years. He has a growing interest in rock climbing and fly fishing, and looks forward to #crushing many sweet routes in Bozeman.
Email: dancrowley.e@gmail.com
MS, PhD Student
Caylee earned her Bachelor of Science from the University of California Berkeley in Molecular Toxicology and Molecular Environmental Biology, where she became interested in wildlife disease ecology and ecoimmunology. She received a Master of Science from Colorado State University focused on understanding how climate change influences the demography and physiology of hibernators, and her dissertation will investigate interactions between Australian fruit bat immune responses, Hendra virus, and environmental conditions.
Email: cayfalvo@gmail.com
Undergraduate, Microbiology and Psychology
Dale is an undergraduate in the honors college at Montana State University earning degrees in Microbiology and Psychology. She has previously studied hummingbird migration patterns and population health. Dale is interested in looking at the effects of changing resource landscapes on pathogen spillover.
MS, PhD Student
Devin earned her Bachelor of Science in Ecology and Evolutionary Biology at the University of Tennessee, where she developed a passion for bats. She assisted with field and lab work, examining the winter behavior and dietary habits of southern bats. Her Master of Science research at Grand Valley State University focused on the trophic transfer of a naturally occurring cyanotoxin, microcystin, from a freshwater lake to little brown bats. Outside of her master's research, she collaborates with Dr. Amy Russell (GVSU) and Veronica Brown (UT) to analyze dietary habits of bats using Next Generation Sequencing.
Email: devinjones18@gmail.com
MS, PhD Student
Maureen earned her Master of Science from Johns Hopkins Bloomberg School of Public Health, and is broadly interested in the ecology of zoonotic pathogens. For her dissertation, she is using an interdisciplinary approach across scales to investigate the dynamics of Hendra virus in reservoir populations of Australian fruit bats. More specifically, Maureen is using fieldwork and model-based approaches to investigate energetics and decision-making in bat foraging strategies between remnant native forest and the urban environments where virus spillover occurs.
Email: maureenkkessler@gmail.com
MS, Program Manager
Mary provides program management support to the Bozeman Disease Ecology Lab and to the NSF and PREEMPT research projects at Montana State University. She also provides communications and science outreach expertise to the US Fish and Wildlife Service on landscape conservation projects. After making the leap from studying birds to communicating science years ago, Mary has been developing and disseminating science-based information to natural resource professionals in online and print formats. Mary holds a Master of Science degree in ecology from Utah State University and a certificate in Distance Learning from University of Wisconsin-Madison.
Email: mmcfadzen@montana.edu
Undergraduate, Microbiology and Immunology
Ticha is an undergraduate student at Montana State earning a degree in microbiology. She has worked at the National Genomics Center for Wildlife and Fish Conservation designing an eDNA assay as well as assisting in other work testing the applications of eDNA. She additionally conducted a research project assessing larval invertebrate diversity in the Salish Sea at the Shannon Point Marine Center. She is interested in work that combines molecular techniques with ecological thinking, especially disease ecology.
Email: tichaps13@gmail.com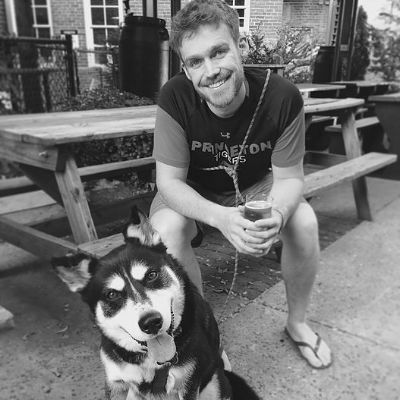 PhD, Postdoctoral Researcher
Alex is a postdoc in the pathogen spillover project. Alex received his PhD from Princeton University, studying ecological theory, in particular stochastic community dynamics and trophic island-biogeography in small and fragmented communities. He is interested in everything, and nowadays focuses his attention on phylogenetic patterns (in pathogens and in hosts) of spillover occurrence, frequency and cost, as well as other probabilistic models for assessing spillover risk.
Email: bigalculus@gmail.com
PhD, Postdoctoral Researcher
Katie is working on the white-nose syndrome (WNS) project using a mechanistic survivorship model based on the host bioenergetics, the growth of the pathogen that causes WNS, and the changing environment. By collecting baseline morphometric and energetic data from at least 5 bat species and microclimate data from across the western U.S., Katie and her collaborators hope to evaluate the presence of WNS and determine areas of risk and refugia. Before coming to Montana, Katie earned her PhD from the University of Florida, her MS from SUNY College of Environmental Science and Forestry, and her BS in Wildlife Biology from Unity College in Maine. Katie's research interests tend to focus on anything related to spatial ecology and animal energetics. Her interests stem from her overall questions about how changing landscapes affect animal processes, particularly how spatial patterns of microclimate shape animal behavior. See more about Katie here.
BS, Lab Manager
Anna earned a bachelor of science in biology and a second degree in science education from Bemidji State University in the deep woods of northern Minnesota. Her senior research thesis for her biology degree took her to the Mekueni District of Kenya. There she studied the tiered use of ethnobotany in rural communities. Beginning in college, Anna spent part of ten years leading wilderness expeditions from Minnesota to Hawaii. This was a great companion career to teaching high school science and math.
PhD, Postdoctoral Researcher
Daniel's postdoc appointment focuses on the pathogen spillover and Hendra virus projects. Daniel earned his PhD from the University of Georgia, where he focused on resource provisioning, wildlife disease, and vampire bat immunology and epidemiology. He is interested in how food availability affects wildlife–pathogen interactions, linking within- and between-host infection processes, and how these perspectives can be applied to predicting spillover of zoonotic pathogens from wild bats and birds.
PhD, Postdoctoral Researcher
Christina joined us for a short-term postdoc between Princeton University and University of Oxford to work on models of pathogen spillover across changing landscapes. Additionally, she investigated the effects of habitat loss on pathogen dynamics in multi-host communities.
BS, Research Associate
Nathan earned his Bachelor of Science in biology from Tufts University. His interests lie in the overlap between ecology and computer science. Specifically, he is interested in developing web-based computational tools to facilitate and promote ecological research. In the lab, Nathan assists members of the team with various computer-based tasks, including: model implementation, data visualizations, and geographic information systems (GIS) analytics.
MS, Research Associate
Gerardo is a vet scientist with a masters degree in conservation biology. He is about to complete his PhD studying the ecological factors that affect risk of Hendra virus spillover to horses. The processes that he has studied are mostly related to the effects of climate on Hendra virus survival and on the fruit bat hosts of the virus.
Undergraduate, Microbiology and Immunology
Ellie is an undergraduate at MSU studying microbiology. She worked in the Voyich lab investing NET release with different point mutations of S. aureus. She is interested in looking at the spillover dynamics of Hendra virus from bats to horses.
PhD, Postdoctoral Researcher
David joined us from The University of Chicago. He worked on disease models to understand the mechanisms by which Hendra virus persist among flying fox populations in Australia. An interesting detail of this system is that Hendra virus, while potentially fatal to non-chiropteran hosts, does not seem to have strong fitness effects on bats. Furthermore, data of Hendra virus prevalence over time does not fit the predictions from standard SIR models, suggesting that processes other than transmission are also contributing to these dynamics. An objective of David's research was therefore to contrast alternative disease models against prevalence data to identify such processes.
Undergraduate McNair Scholar
Daniela worked with Dr. Raina Plowright and Dr. Jovanka Voyich to investigate mechanisms driving chronic carriage in bighorn sheep. Daniela is a Montana State McNair Scholar!
Lab Affiliates and Collaborators
Raina co-advises or works closely with a number of graduate students and postdocs based at other institutions and collaborates with a wide range of researchers across institutions and disciplines.